Settling in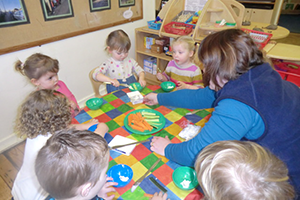 Leaving your child in new surroundings for the first time can be a difficult experience for parents and children alike. We find it helps if parents visit with their child as many times as possible before they begin. Visits give you and your child time to familiarise yourselves with the routine, surroundings and the staff at the centre. The staff will also be able to find out all about your child and his/her individual needs.
These visits need to be pre-arranged to avoid more than one visit at a time. Parents must stay in the Children's Centre at all times during the visit. To make arrangements for a visit, please contact the Daycare Manager. You are not charged for these visits.
Relationships
We operate a key person system, so children will be able to form close relationships with one member of staff and become part of a little group of similar aged children. On the whole, this person will take responsibility for the child's diary and learning journey and generally be there for the whole family.
There will always be a Daycare Manager or Lead Early Years Practitioner in Daycare every day who will be available to discuss issues or concerns, but we hope our families feel comfortable to communicate and build a close relationship with their key person.
Security
We will only release children to known adults listed on the admission form, so please make certain we know if someone different is coming to collect your child. We use passwords in this event for security reasons. The Daycare door is fitted with an electronic security device so access can only be granted by a member of staff.
Important Information
When your child starts, you will need to bring a spare set of clothes with your child in case of accidents. We like to ensure that the children get plenty of fresh air throughout the day, so appropriate outdoor clothing is essential. Please ensure that clothes are clearly labelled. You will also need to provide a named pair of wellies with a peg to clip them together. These will be kept in our welly garage for outdoor play. In the summer, children will require sun hats and sun cream. Bags must be handed to staff as we do not allow bags on coat pegs.
Sleep and Rest
Staff will discuss each child's sleep pattern with parents/carers and record relevant information. Children will be allowed to sleep/rest according to their own needs in an appropriate place and with the appropriate comforter, if required. Staff will only consider waking up a child if they are concerned about the child's wellbeing. Children are monitored during sleep every 15 minutes. This is undertaken by staff within the Daycare Room.
Changing Nappies and Toilet Training
Nappies are not provided so parents/carers will need to ensure that they supply these in their child's bag. If nappies are not supplied, a fee of 50p per nappy will be chargeable. If your child has allergies please make sure that staff are aware of this.
Staff will work with parents to toilet train children to ensure consistency between home and Daycare.