Health and Wellbeing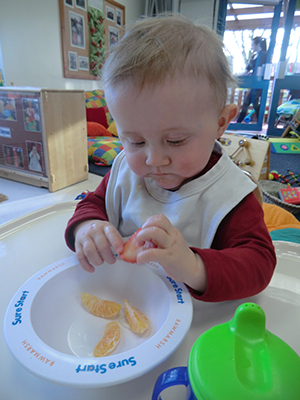 We strongly believe in the importance of caring for the wellbeing of both the children and the adults in our Centre. We aim to ensure all basic needs are met in the knowledge that they will learn more effectively.
We try to always promote a healthy lifestyle for our children. We offer outdoor play as a part of the continuous provision and courage lots of outdoor activity. We provide a healthy drink of milk or water along with a snack menu which includes fruit, vegetable sticks, crackers and cheese, toast etc.
Meals
Meals are freshly prepared by an experienced cook in our 5* rated kitchen. Menus are planned on a 4 week rota and offer a varied and nutritiously balanced diet for the children in our care. We will take into account special dietary needs and provide an alternative meal if required. We discourage sweets and sugary food and drink, so please support us by not bringing these into the centre when you collect your child. A piece of fruit or a pot of vegetable sticks is better if you need to fill a gap between meals.
Thrive
The centre uses the Thrive programme to support the emotional Health and Wellbeing of children. The Thrive Programme helps to promote healthy personal, social and emotional development in our children. This approach is based on research into how young children's brains develop and offers activities and ways of communicating and working which are in line with a young child's developmental needs and ability to respond appropriately to their world. We set appropriately high behavioural expectations and support children to meet those expectations. This approach is implemented through our everyday actions and activities, with the opportunity to devise individual plans for children identified as having more complex emotional needs. (see leaflet in reception for more details).
Car Parking
When dropping off and collecting your child, please park on the road as the car park is very busy with staff cars. Please ensure you hold your child's hand at all times. Disabled badge holder parking is available by using the intercom at the controlled main gate. Please do not park on the yellow zig zags as these need to be kept clear for emergency vehicles. In addition to this, please be considerate of local residents and leave driveways clear at all times.