Settling in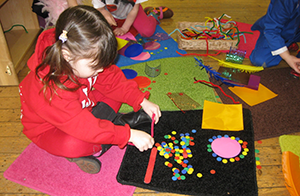 When you are only 3 or 4 years old, going in to a large, new place can seem very daunting and even frightening for some children. Please try to come along to one of our transition meetings before your child starts Nursery. If you cannot make the one allocated to you, please tell us and we will try and accommodate you. At this meeting we will share lots of information, including some tips on how to settle your child as they begin their school life.
You will also be invited to bring your child to visit the Nursery shortly before they start. This will help them get an idea of what to expect, so it is very important that they visit with someone they trust. It will also give you as parents and carers an opportunity to meet with your key person. On your child's first day, you can stay as long as you like to settle them but once settled it is best not to prolong the goodbye, but please reassure your child that you will be back soon and tell them what you will be doing while they are at Nursery. Some children may need a 'transitional object' from home that reminds them of you to help them with the process. Please speak to us about this.
You need to ensure your child is brought right into Nursery and registered with their group each day. It is important that you are on time to collect them as scanning a large group of adults and finding you do not recognise anyone can be very distressing, especially if you are not fully settled. We will only release your child to known adults listed on the admissions form, so please make certain that we know if someone different is coming to collect your child. We use passwords in this event. The Nursery School doors are fitted with an electronic security device so access can only be granted by a member of staff.